Light Reflective Floors (LRF) | Polished Concrete Floors (PCF) decrease lighting costs through reductions in equipments and labor during initial installation, reduction of maintenance, and lower energy usage for the life of lighting system. Light colored exterior concrete applications reflect more light, and in doing so absorb less heat, leading to decrease of heat island effects. The increased visibility of light reflective materials also provides greater safety for public, workplace, and industrial settings. Depending upon the colors, the floor can reflect as much as 35% of the light, saving on the energy used for lighting.
LRF|PCF provides opportunities for more economic benefits, environmental advantages and eco-friendly as a green building solution.
LRF|PCF offers an alternative to conventional finishes, adding value and aesthetic appeal to commercial or institutional buildings. Being already "concrete floor" makes it more sustainable. The economics of such concrete floor finishes often eliminate the need and cost of floor coverings and coating. No additional floor covering materials are consumed. Moreover, concrete does not emit volatile organic compounds (VOCs), nor does it require installation-adhesives or maintenance with solvents that emit VOCs as many other flooring options do. It does not need to be sealed or waxed under most conditions. LRF|PCF concrete floors are low-maintenance, as they are more durable and easier to clean than many flooring.
It reduces dust mite and allergen problems, (a big advantage over carpeting), thus improving indoor air quality. Being inorganic, concrete does not support the mold growth.
The densified concrete surface is of high abrasion resistant and with greater impact strength, extending its useful life that makes concrete more sustainable.
Cost-effective, practical and aesthetically versatile, LRF | PCF is a flooring solution that economical viable and is one of the most sustainable flooring option today.
LEED 2009 standards contain guidelines for using concrete polished flooring to qualify for LEED credits.
<![if !vml]>

<![endif]>
<![if !vml]>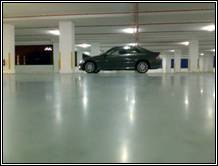 <![endif]>
Light reflective floors are well suited to large warehouse
commercial  and retail stores and interior car parks